With long history, China has some very great important inventions but the most world-famous ones are gunpowder, paper making, printing and compass.
China was the first country in the world to make paper. The ancient paper has been found in Gansu Province, Xian and other places in Shaanxi Province as well as Xinjiang. According to study, these ancient paper was made in west Han Dynasty (202BC – 16AD). In the East Han Dynasty (25AD-220AD), Cai Lun used such plant fiber as tree barks, rags, bits of rop and worn-out fishing nets to make paper. In 105, Cai presented his fire batch of paper made under his supervision to the then emperor. The paper of East Han Dynasty was found in Wuwei, Gansu and the characters on them were still clearly decipherable.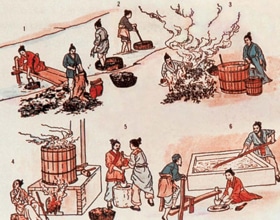 Where characters were written before invention of paper? The ancient Chinese carved characters on pottery, stone, animal bones, or wrote them on bamboo or wood slips and silk. These material are too heavy or expensive to carry or widespread use.
Printing was invented by the ancient Chinese toilers after long-term practice and study. On the basis of printing using carved blocks in Tang Dynasty, Bi Sheng of Song Dynasty invented movable type printing in 1040s which was a major revolution in the history of printing.
Bi Sheng's procedure of printing includes making the type, composing the text, printing and retrieving the movable types. As for making the type, Bi Shen carved every single charactes on square of sticky clay and then bake them. When composing a text, moulds of characters was put within a large iron frame on the piece of large iron board whose surface was applied by turpentine, wax and paper ash. While one plate was being printed, another plate could be composed. After one plate was being printed, another could be composed. After printing, the movable type was taken away for further use.
The creation of gunpowder was one of the most significant achievements in the ancient China. Ge Hong in the third century recorded in his book the procedure for making a kind of mixture which can be ignited. After Tang Dynasty, gunpowder had already been used in simple hand-grenades which were thrown by catapults. During Song Dynasty, gunpowder was great used in military. A kind of weapon, flame thrower which involved packing gunpowder into bamboo tubes was created. Engels once spoke highly of gunpowder and said that it was undoubtedly that gunpowder was passed from China through Indians to Arab and then to Europe.
According to the ancient records, magnets were used in ancient China which paved the way for the invention of compass. The first compas was Sinan during the Warring States Period. In Han Dynasty, a kind of compass was created and the main material was a bronze which 24 directions were carved. The invention of the compass promoted the maritime undertakings and the compass was then spread to Arab and then to Europe.